Finding home building plans and choosing your lot considerations can become quite challenging in of itself.
And getting the lot and house married together successfully adds to the challenge.
Do you know all the steps to the process of finding the right lot?
Are you ready to take the plunge into home building plans or remodeling projects?
Are you prepared to handle all the conditions of your property such as soil conditions? Have you thought about the opportunity or constraints of your property or the subdivision construction lots?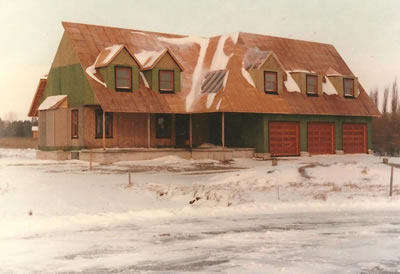 House Plans First?
When most of us consider building a new house or remodeling a home, we assume that the first order of business is to chose our design or find a house plan that we "like".
Yes, the house is very important of course. But choosing a lot or property comes first. Then you know the lot layout you are dealing with before you choose a house plan.
The design of any house is influenced by the opportunities or restrictions of the site. Any professional designer or architect will tell you that.
If you try to design your house first, you'll find you might miss golden opportunity for a walkout basement, a captivating view, utilizing the angles of the sun or making the driveway easy to maneuver. When the house is congruent with the grading of the property , the effect look seamless.
TV versus Reality
The TV series Extreme Home Makeover is a lot of fun to watch. It's certainly exciting for the family that is getting that new home or a severely remodelled older one.
Wouldn't we all like to have an extreme home makeover? But that's television. I'll discuss the reality most of us have to face.
Capitalize on Views
A client of mine was looking to build a new home on an existing piece of land they have.
Since I was able to see the property first, I could design the house construction plans to capture the magnificent views towards the ravine. Had this couple purchased their house plans first, it was most unlikely we could capitalize on the views. The ravine was situated beside the house.
I was able to design the home with the living space facing towards the ravine. Windows, decks and porches were all located in this premium living space. The bedrooms got situated on the other side of the house. It ended up being a beautiful home with incredible views.
All too often I see magnificent views not captured. Most likely plans were bought first. And as a designer I see missed opportunity because someone had focused on the house and neglected the site relationship to the home.