My Service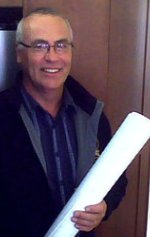 Name: Gerard O'Rourke
Location: Southwestern Ontario, Canada
Objective: To assist homeowners or contractors by
providing all the services that are required for getting a home from the "idea" stage to the "ready-to-build" stage.

Services:
√ Conceptual Designs
√ Drafting (BCIN Approved)
√ Engineering & Services Approvals
√ Permits (Building & Plumbing)
√ Site Development

Under the requirements of the Ontario Building Code, permits are required to construct, alter, amend or demolish small buildings (residential). This basic service meets the requirements for most municipalities.
I can offer you a quote based upon all the work required from design to
ready-to-build stage.
I will provide you a quote package that will outline my scope of work and fee structure. I will come to your building site for our first meeting. Following our initial meetings we will determine the services you will require from me.
Additional services may include such things as Zoning and/or By-law Amendments and will need to be authorized before commencing with these specific items.



PRE-CONSTRUCTION PHASE
√ design services which include the preparation of scaled design drawings/sketches for the contractor/owner
√ all building measurement work required for the proposed work (does not include site survey work)
√ all meetings with the contractor/owner as necessary to ascertain the design perimeters for the project
√ up to three revisions to the design layouts drawings/sketches for the contractor/owner
√ construction budget estimates for the contractor/owner for the proposed work
√ BCIN approved construction drawings for the purposes of obtaining building and plumbing permits from the municipality with revisions as necessary. Five copies of final construction drawings for contractor
√ P. Eng. stamped structural engineering drawings for beams/columns/walls , roof trusses and floor systems as required by municipality
√ obtain building/plumbing permits for the contractor/owner for the proposed work including paid permit fees and deposits up to $ 1,000. (Permits turned over ready for construction work.) Electrical permits and fees carried by electrical contractor
√ all pre-construction meetings as required with municipal officials of the Building Department(s) ( does not include on-site inspections during construction if requested )
√ BCIN approved HVAC calculations for the proposed addition/construction work including ventilation layouts drawings/sketches as required by the municipality
√ buried service locates completed if required



ADDITIONAL SERVICES:
Such services may include:
- Lot Surveys
- Minor Variances
- Zoning Amendment Applications
- Property Consent Applications
- By-Law Amendment Applications
- Property Severance Applications
- Conservation Authorities
- Archeological Study
- Hydrological Study
- Drinking Water Systems(wells)
- Service Entrance Applications for Hydro, Water, Sewage, Septic System Designs
- Energy Audits
- Colour & Finish Selections from Owners

These additional services are available and are billed separately at our standard hourly consulting rates and do not include application fees, studies, etc.