So what comes first at the pre-construction house stage?
The Chicken Or The Egg, opps! … I Meant The "House Plan" Or The "Lot Selection"?
Ask an architect!
They'll tell you the lot first.
And I would tell you the same thing.
If it works.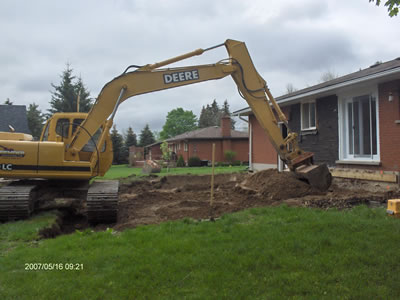 House Plans First, Hmmm?
So often I see customers with a house plan already picked out.
But they have no idea of the lot they are going to put this house on.
And it's probably a sure bet that the house plans are not going to "fit like a glove" to that lot.
But the good news here is that with an architectural touch, the plans can be altered to scale it to the contours of the lot.
You can still retain a lot of the features you liked in the floor plan at the same time.
When I Bought My Place
The property I currently own today, has a slope from the top of the driveway to the waters' edge. The property is located on conservation land with a beautiful lake in my backyard.
This property drops 9 feet over a span of 350 feet.
The owners that owned this property before us had plans of building a raised, bungalow. That meant that placing a raised bungalow on a sloped lot would have made the raised bungalow sit up too high facing towards the water. It would look awkward and ill-fitting to the lot.
It was important that the person who built a house on this lot build the house in relation to the sloping lot. The house needed to fit like a glove to the land.
When I found this precious piece of land I knew that the house needed to be customized to the grade of this property. A cookie-cutter house would not have worked!
So Where Are You At?
Being at the pre-construction house stage probably means you haven't picked plans or a site yet.
Buy your property lot first. Then get house plans that suit the property.
Today there are wonderful house plans available from reputable companies throughout the internet. Spend time looking at plans they are offer. Build your wish list. If you see something that appeals to you add the idea to your wish list.
Once you have a property, your architect or draftsman can design the house to the elements of the property.