Universal Design Means...
Universal design means incorporating building design for all people to be able to use no matter what their physical limitations may be.
SO WE ARE LIVING LONGER!
That means changing how we live.
Just because we are living longer doesn't mean we can bolt up a flight of stairs when we're 75 years old.
So we have to adapt our homes for aging with some universal design ideas.
And why not consider making a few adaptations now while you're renovating.
It could mean saving you both time and money.
And that means changing how we design buildings.
If we are going to design homes that are useable by everyone we need to plan on designing a home that seniors, handicapped persons and families can use.
You might want to design a home you can grow old in.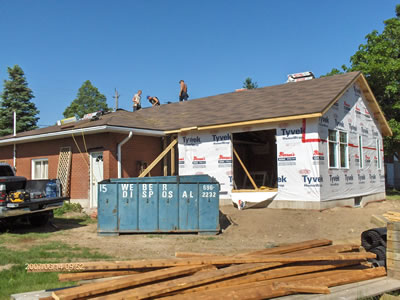 Some Ideas for Creating Universal Design

a) Install high quality lever faucets for poor strength.
b) Raise electrical outlets higher for ease of access.
c) Lower light switches for easy reach.
d) Side by side refrigerators for ease of getting to fresh and frozen.
e) Magnetic latches for ease of opening cabinets.
f) Design a smaller work triangle which will reduce movement in the workspace.

g) Design countertops at different levels to allow various heights for different activities.
h) Add pullouts planks beside stove to place hot items on.
i) Install digital appliances and components. Digital displays are easier to read than old dials.
j) Install wider doorways for wheelchairs.
k) Design wide entrances from the exterior into the house. Later it will be easy to build a ramp.
l) Install handrails and grab bars. I know you don't want it to look like a senior's home but even a grab bar in the shower is nice for everyone to use including the kids.
m) Design a shower unit that allows a wheelchair or ease of entry for walking into.
n) Lower bathroom countertops.
o) Slightly higher toilets.